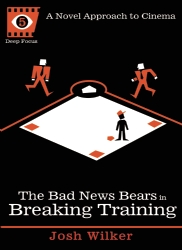 The Bad News Bears in Breaking Training
Josh Wilker
In 1977, The Bad News Bears in Breaking Training had a moment in the sun. A glowing junk sculpture of American genres- sports flick, coming-of-age story, family melodrama, after-school special, road narrative- the film cashed in on the success of its predecessor, The Bad News Bears. Arguing against a sequel's dismissal as a cultural afterthought, Josh Wilker lovingly rescues from the oblivion of cinema a quintessential expression of American resilience and joy.
Rushed into theaters by Paramount during a time when the beleaguered film was suffering from "acute sequelitis," the (undeniably flawed) movie miraculously transcended its limitations to become a gathering point for heroic imagery drawn from American mythology. Considered in context, the film's unreasonable optimism, rooted in its characters' sincere desire to keep playing, is a powerful response to the political, economic, and social stresses of the late 1970s.
To Wilker's surprise, despite repeated viewing a, The Bad News Bears in Breaking Training continues to movie him. Its huge heart makes it not only the ultimate fantasy of the baseball obsessed American boy, but a memorable iteration of that barbed vision of pure sunshine itself, the American dream.
John Wilker studied at Johnson State College and Vermont College. He has worked as a proofreader, copy editor, teacher, bookstore clerk, liquor store clerk, truck loader, and gas station attendant. He writes about his childhood baseball cards at cardboardgods.net and in his new book, Cardboard Gods (2010). He lives with his wife in Chicago.
Cloth | 4.75″ x 6.5″ | 128 pgs. | ISBN: 978-1-59376-418-0 | List: $12.95