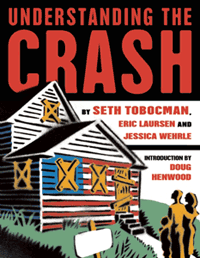 Understanding the Crash
Seth Tobocman and Eric Laursen
Introduction by Doug Henwood
Understanding the Crash starts with a simple question that still haunts us all: What has happened to the world economy? With the kind of striking precision that only graphic nonfiction can provide, Seth Tobocman and Eric Laursen explain just how we got into this mess—and how we can get out of it.
Looking back across more than a quarter century, the authors outline the roots of our current economic crisis. They show how the troubles of a working class community in Cleveland or a newly built suburb of Miami became an international financial crisis, explaining the complex new forms of credit that came into being because of financial deregulation and how they created an economic whirlpool. From there they discuss how, over the same time span, a smaller and smaller group of people came to control a larger and larger percentage of the world's money—a result of rising inequality that, combined with the shortage of affordable housing, a decline in real wages, and our unwavering belief in an "ownership society," compelled poor people into debt. Tobocman and Laursen conclude with a consideration of a restructured financial system and a look toward a culture of sustainability—one that covets real wealth in the form of security, meaningful work, and community.
Seth Tobocman is a radical comic book artist best known for the political anthology World War 3 Illustrated, which he started in 1979 with fellow artist Peter Kuper. He lives in New York City, where he teaches cartooning and illustration at the School of Visual Arts.
Eric Laursen is a progressive writer with an extensive background in financial reporting. His work has appeared in The Village Voice and The Nation, among other publications. He lives in Charlemont, Massachusetts.
Paper | 7 x 9 | 128 pgs. | ISBN: 1-59376-272-0 | List: $15.95 | 05/1/2010