Books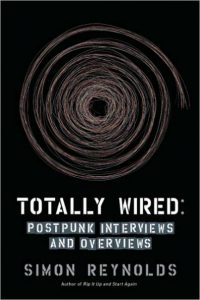 Postpunk Interviews and Overviews
With his critically acclaimed
Rip It Up and Start Again
, renowned music journalist Simon Reynolds applied a unique understanding to an entire generation of musicians working in the wake of punk rock. Spawning artists as singular as Talking Heads, Joy Division, The Specials, Siouxsie and the Banshees, Gang of Four, and Devo, postpunk achieved new relevance in the first decade of the twenty-first century through its profound influence on bands such as Radiohead, Franz Ferdinand, and Vampire Weekend.
With
Totally Wired
the conversation continues. The book features thirty-two interviews with postpunks most innovative personalities—such as Ari Up, Jah Wobble, David Byrne, and Lydia Lunch—alongside an overview" section of further reflections from Reynolds on postpunks key icons and crucial scenes. Included among them are John Lydon and PIL, Ian Curtis and Joy Division, and art-school conceptualists and proto-postpunkers Brian Eno and Malcolm McLaren. Reynolds follows these exceptional, often eccentric characters from their beginnings through the highs and lows of postpunks heyday.
Crackling with argument and anecdote,
Totally Wired
paints a vivid portrait of individuals struggling against the odds to make their world as interesting as possible, in the process leaving a legacy of artistic ambition and provocation that reverberates to this day.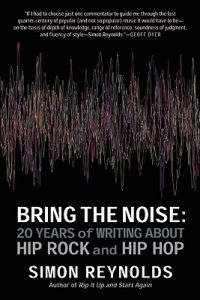 20 Years of Writing About Hip Rock and Hip Hop
Bring the Noise
weaves together interviews, reviews, essays, and features to create a critical history of the last twenty years of pop culture, juxtaposing the voices of many of rock and hip hop's most provocative artists—Morrissey, Public Enemy, The Beastie Boys, The Stone Roses, P.J. Harvey, Radiohead—with Reynolds's own passionate analysis. With all the energy and insight you would expect from the author of
Rip It Up and Start Again
,
Bring the Noise
tracks the alternately fraught and fertile relationship between white bohemia and black street music. The selections transmit the immediacy of their moment while offering a running commentary on the broader enduring questions of race and resistance, multiculturalism, and division. From grunge to grime, from Madchester to the Dirty South,
Bring the Noise
chronicles hip hop and alternative rock's competing claims to be the cutting edge of innovation and the voice of opposition in an era of conservative backlash. Alert to both the vivid detail and the big picture, Simon Reynolds has shaped a compelling narrative that cuts across a thrillingly turbulent two-decade period of pop music.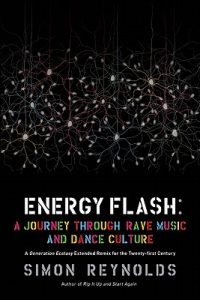 A Journey Through Rave Music and Dance Culture
Ecstasy did for house music what LSD did for psychedelic rock. Now, in
Energy Flash
, journalist Simon Reynolds offers a revved-up and passionate inside chronicle of how MDMA ("ecstasy") and MIDI (the basis for electronica) together spawned the unique rave culture of the 1990s.
England, Germany, and Holland began tinkering with imported Detroit techno and Chicago house music in the late 1980s, and when ecstasy was added to the mix in British clubs, a new music subculture was born. A longtime writer on the music beat, Reynolds started watching—and partaking in—the rave scene early on, observing firsthand ecstasy's sense-heightening and serotonin-surging effects on the music and the scene. In telling the story, Reynolds goes way beyond straight music history, mixing social history, interviews with participants and scene-makers, and his own analysis of the sounds with the names of key places, tracks, groups, scenes, and artists. He delves deep into the panoply of rave-worthy drugs and proper rave attitude and etiquette, exposing a nuanced musical phenomenon.
Read on, and learn why is nitrous oxide is called "hippy crack."