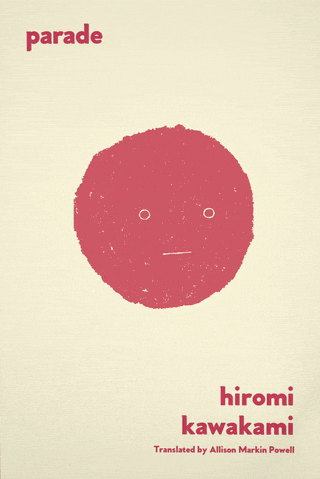 Parade
A Folktale
"A parable about memory, mythic characters, and confessional regrets . . . An ethereal, resonating literary gift" (Booklist, starred review) from the internationally bestselling author of Strange Weather in Tokyo.
"On a summer afternoon, Tsukiko and her former high school teacher have prepared and eaten somen noodles together.
"Tell me a story from long ago," Sensei says.
"I wasn't alive long ago," Tsukiko says, "but should I tell you a story from when I was little?"
"Please do," Sensei replies, and so Tsukiko tells him that, when she was a child, she awakened one day to find something with a pale red face and something with a dark red face in her room, arguing with each other. They had human bodies, long noses, and wings. They were tengu, creatures that appear in Japanese folktales.
The tengu attach themselves to Tsukiko and begin to follow her everywhere. Where did they come from and why are they here? And what other invisible and unacknowledged forces are acting upon Tsukiko's seemingly peaceful world?"
Praise for Strange Weather in Tokyo (previously published as The Briefcase) "Simply and earnestly told, this is a profound exploration of human connection and the ways love can be found in surprising new places." ―BuzzFeed "A sweet and poignant story of love and loneliness . . . A beautiful introductory book to Kawakami's distinct style." ―Book Riot "In quiet, nature-infused prose that stresses both characters' solitude, Kawakami subtly captures the cyclic patterns of loneliness while weighing the definition of love." --Booklist "In its love of the physical, sensual details of living, its emotional directness, and above all in the passion for food, this is somewhat reminiscent of Banana Yoshimoto's Kitchen." --Independent (UK) "Each chapter of the book is like a haiku, incorporating seasonal references to the moon, mushroom picking and cherry blossoms. The chapters are whimsical and often melancholy, but humor is never far away . . . It is a celebration of friendship, the ordinary and individuality and a rumination on intimacy, love and loneliness. I cannot recommend Strange Weather in Tokyo enough, which is also a testament to the translator who has skillfully retained the poetry and beauty of the original." --Japan Society "Strange Weather in Tokyo is a tender love story that drifts with the lightness of a leaf on a stream. Subtle and touching, this is a novel about loneliness, assuaged by an unlikely romance, and brought to life by one of Japan's most engaging contemporary writers." --Readings (Australia) "A dreamlike spell of a novel, full of humor, sadness, warmth, and tremendous subtlety. I read this in one sitting, and I think it will haunt me for a long time." --Amy Sackville Praise for Manazuru "In Kawakami's first novel to be translated into English, a woman fades in and out of the present as she visits the beach town of Manazuru, in the shadow of Mt. Fuji. The real and the fantastical meld as Kei narrowly avoids disaster (she escapes the typhoon that destroys the restaurant where she was dining). Her memories are startlingly vivid, yet their veracity remains uncertain; are the visions she has of her husband with another woman real or imagined? Kawakami has a remarkable ability to obscure reality, fantasy, and memory, making the desire for love feel hauntingly real." --Publishers Weekly "The Manazuru of Kawakami's is a dream state as much as a place, a seaside town visited often by the restless narrator, Kei. Kei's husband vanished more than a decade ago, and only now, living in Tokyo with her mother and sullen 16-year-old daughter, is she compelled to put his memory to rest. Kei is haunted not only by her husband but also inexplicably by other shadow-like entities. She is drawn again and again to Manazuru, where she enters a world where time stops, sound evaporates, women hang from trees, boats spark into flame and disappear, and ghosts come and go like smoke. Yet the fantasy has purpose as a manifestation of Kei's sense of displacement, and of her estrangement from her daughter and mother. The action convincingly moves in waves between Kei's past and present, the surreal and the everyday. Part ghost story, part meditation on life and death, family and self, this slim novel is captivating and suspenseful, and sure to satisfy not only fans of ghost fiction but all readers." --Booklist Praise for Record of a Night Too Brief "Baffling, unsettling and haunting, these tales have a dreamlike atmosphere, rather like Salvador Dali's pictures--anything can happen." --The Lady (UK) Praise for The Nakano Thrift Shop "Subtle, graceful, wise, and threaded on a quirky humor, this exploration of the connections and disconnections between people kept me smiling long after the last page." --Julia Rochester, author of The House at the Edge of the World "The Nakano Thrift Shop is really a love story, albeit a very offbeat one . . . A gentle book, full of charm [and] radiating leftfield charisma." --Emerald Street "Kawakami has an extraordinarily way of drawing you into her ethereal world where, although nothing really happens, when they do, little transgressions or events cause ripples that spread seamlessly throughout the whole book and stay with you long after the story has finished." --The Reprobate (UK)