Books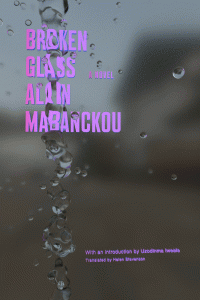 A Novel
An irreverent, allusive, scatalogical, tragicomic masterpiece that centers on the patrons of a run-down bar as they try to document the details of their lives in a country that appears to have forgotten the importance of remembering.
In Republic of the Congo, in the town of Trois-Cents, in a bar called Credit Gone West, a former schoolteacher known as Broken Glass drinks red wine and records the stories of the bar and its regulars for posterity: Stubborn Snail, the owner, who must battle church people, ex-alcoholics, tribal leaders, and thugs set on destroying him and his business; the Printer, who had his respectable life in France ruined by a white woman, his wife; Robinette, who could outdrink and outpiss any man; and Broken Glass himself, whose own tale involves as much heartbreak, squalor, disappointment, and delusion.
But Broken Glass fails spectacularly at staying out of trouble as one denizen after another wants to rewrite history in an attempt at making sure his portrayal will properly reflect their exciting and dynamic lives. Despondent over this apparent triumph of self-delusion over self-awareness, Broken Glass drowns his sorrows and riffs on the great books of Africa and the West. Brimming with life, death, and literary allusions,
Broken Glass
is Mabanckou's finest novel--a mocking satire of the dangers of artistic integrity.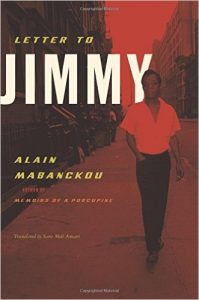 Written on the twentieth anniversary of James Baldwin's death, Letter to Jimmy is African writer Alain Mabanckou's ode to his literary hero and an effort to place Baldwin's life in context within the greater African diaspora.
Beginning with a chance encounter with a beggar wandering along a Santa Monica beach—a man whose ragged clothes and unsteady gait remind the author of a character out of one of James Baldwin's novels— Mabanckou uses his own experiences as an African living in the US as a launching pad to take readers on a fascinating tour of James Baldwin's life. As Mabanckou reads Baldwin's work, looks at pictures of him through the years, and explores Baldwin's checkered publishing history, he is always probing for answers about what it must have been like for the young Baldwin to live abroad as an African-American, to write obliquely about his own homosexuality, and to seek out mentors like Richard Wright and Ralph Ellison only to publicly reject them
later.
As Mabanckou travels to Paris, reads about French history and engages with contemporary readers, his letters to Baldwin grow more intimate and personal. He speaks to Baldwin as a peer—a writer who paved the way for his own work, and Mabanckou seems to believe, someone who might understand his experiences as an African expatriate.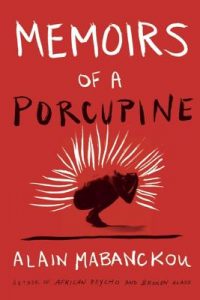 All human beings, says an African legend, have an animal double. Some doubles are benign, others wicked. This legend comes to life in Alain Mabanckou's outlandish, surreal, and charmingly nonchalant
Memoirs of a Porcupine
.
When Kibandi, a boy living in a Congolese village, reaches the age of 11, his father takes him out into the night and forces him to drink a vile liquid from a jar that has been hidden for years in the earth. This is his initiation. From now on, he and his double, a porcupine, become accomplices in murder. They attack neighbors, fellow villagers, and people who simply cross their path, for reasons so slight that it is virtually impossible to establish connection between the killings. As he grows older, Kibandi relies on his double to act out his grizzly compulsions, until one day even the porcupine balks and turns instead to literary confession.
Winner of the Prix Renaudot, France's equal to the National Book Award, Alain Mabanckou is considered one of the most talented writers today. He was selected by the French journal
Lire
as one of fifty writers to watch this coming century. And as Peter Carey suggests, he "positions himself at the margins, tapping the tradition founded by Celine, Genet, and other subversive writers." In this superb and striking story, Mabanckou brings new power to magical realism, and is sure to excite American audiences nationwide.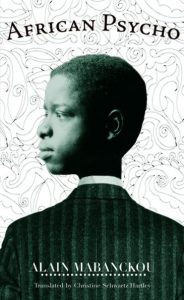 Its title recalls Bret Easton Ellis's infamous book, but while Ellis's narrator was a blank slate,
African Psycho's
protagonist is a quivering mass of lies, neuroses, and relentless internal chatter. Gregoire Nakobomayo, a petty criminal, has decided to kill his girlfriend Germaine. He's planned the crime for some time, but still, the act of murder requires a bit of psychological and logistical preparation. Luckily, he has a mentor to call on, the far more accomplished serial killer Angoualima. The fact that Angoualima is
dead
doesn't prevent Gregoire from holding lengthy conversations with him. Little by little, Gregoire interweaves Angoualima's life and criminal exploits with his own. Continuing with the plan despite a string of botched attempts, Gregoire's final shot at offing Germaine leads to an abrupt unraveling. Lauded in France for its fresh and witty style,
African Psycho's
inventive use of language surprises and relieves the reader by injecting humor into this disturbing subject.