Books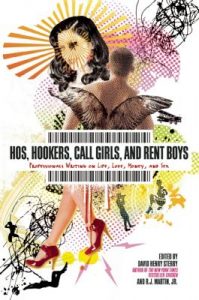 Professionals Writing on Life, Love, Money, and Sex
The only thing the writers in this book have in common is that they've exchanged sex for money. They're PhDs and dropouts, soccer moms and jailbirds, $2,500-a-night call girls and $10 crack hos, and everything in between. This anthology lends a voice to an underrepresented population that is simultaneously reviled and worshipped.
Hos, Hookers, Call Girls, and Rent Boys
is a collection of short memoirs, rants, confessions, nightmares, journalism, and poetry covering life, love, work, family, and yes, sex. The editors gather pieces from the world of industrial sex, including contributions from art-porn priestess Dr. Annie Sprinkle, best-selling memoirist David Henry Sterry (
Chicken: Self-Portrait of a Young Man for Rent
), sex activist and musical diva Candye Kane, women and men right off the streets, girls participating in the first-ever National Summit of Commercially Sexually Exploited Youth, and Ruth Morgan Thomas, one of the organizers of the European Sex Work, Human Rights, and Migration Conference.
Sex is a billion-dollar industry. Meet the real people who are its flesh and blood.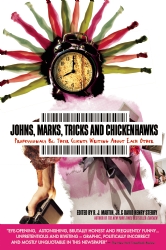 Professionals & Their Clients Writing about Each Other
Johns, Marks, Tricks & Chickenhawks: Professionals & Their Clients Writing about Each Other
is the follow-up to
Hos, Hookers, Call Girls and Rent Boys
, the groundbreaking anthology that appeared on the cover of the
New York Times Book Review
. "Eye-opening, astonishing, brutally honest and frequently funny... unpretentious and riveting — graphic, politically incorrect and mostly unquotable in this newspaper." It is a unique sociological document , a collection of mini-memoirs, rants, confessions, dreams, and nightmares by people who buy sex, and people who sell. And because it was compiled by two former sex industry workers, the collection is, like its predecessor, unprecedented in its inclusiveness. $10 crack hos and $5,000 call girls, online escorts and webcam girls, peep show harlots and soccer mom hookers, bent rent boys and wannabe thugs. Then there's the clients. Captains of industry and little old Hasidic men, lunatics masquerading as cops and bratty frat boys, bereaved widows and widowers. This book will shine a light on both sides of these illegal, illicit, forbidden, and often shockingly intimate relationships, which have been demonized, mythologized, trivialized and grotesquely misunderstood by countless Pretty Woman-style books, movies and media. This is hysterical, intense, unexpected, and an ultimately inspiring collection.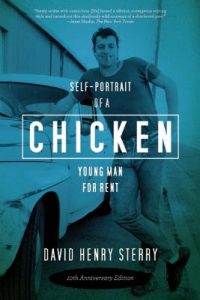 Self-Portrait of a Young Man For Rent
I walk all the way up Hollywood Boulevard to Grauman's Chinese Theatre: past tourists snapping shots; wannabe starlets sparkling by in miniskirts with head shots in their hands and moondust in their eyes; rowdy cowboys drinking with drunken Indians; black businessmen bustling by briskly in crisp suits; ladies who do not lunch with nylons rolled up below the knee pushing shopping carts full of everything they own; Mustangs rubbing up against muscular Mercedes and Hell's Angels hogs.

It's a sick twisted Wonderland, and I'm Alice.
Here is a story like no other: The unforgettable chronicle of a season spent walking the razor-sharp line between painful innocence and the allure of the abyss. David Sterry was a wide-eyed son of 1970s suburbia, but within his first week looking for off-campus housing on Sunset Boulevard he was lured into a much darker world — servicing the lonely women of Hollywood by night.
Chicken
—the word is slang for a young male prostitute—revisits this year of living dangerously, in a narrative of dazzling inventiveness and searing candor. Shifting back and forth from tales of Sterry's youth—spent in the awkward bosom of a disintegrating dysfunctional family—to his fascinating account of the Neverland of post—sixties sexual excess, Chicken teems with Felliniesque characters and set pieces worthy of Dionysus. And when the life finally overwhelms Sterry, his retreat from the profession will leave an indelible mark on readers' minds and hearts.