Books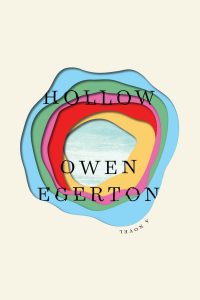 A Novel
An NPR Best Book of the Year, Hollow is the story of a professor whose life is unended after an unspeakable tragedy.
When Oliver Bonds, a revered religious studies professor at the University of Texas, loses his toddler son and undergoes intense legal scrutiny over his involvement, grief engulfs him completely. His life as he knows it is over; Oliver loses his wife, home, and faith. Three years after his son's death, Oliver lives in a shack without electricity and frequents the soup kitchen where he used to volunteer.
It's only when befriended by Lyle, a con artist with a passion for theories of Hollow Earth, that Oliver begins to reengage with the world. Oliver too becomes convinced that the inside of the planet might contain a different realm. Desperate to find a place where he can escape his past, Oliver chases after the most unlikely of miracles.
With unforgettable characters, wild imagery, and dark humor,
Hollow
explores the depths of doubt and hope, stretching past grief and into the space where we truly begin to heal.
"With the kind of grace not usually seen in accessible modern fiction, Egerton also invokes many other things with this central metaphor . . . Ollie's voice is one of the most believable I've encountered this year, sustained by honesty, realism, and compassion. In his exile, Ollie has taken stock. His reckoning with the past creates the story's exquisite tension and makes the final scene bloom with tenderness . . . The core of Hollow is anything but." --NPR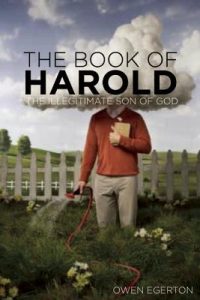 The Illegitimate Son of God
The Book of Harold
is as profound and deeply respectful a novel as it is irreverent in its wild, often hilarious take on a modern messianic movement in suburbia. The titular and sometimes exasperating hero of this masterful satire is Harold Peeks, a middle-aged suburbanite living a lonely if typical modern life in the outskirts of Houston, Texas. His world feels bland and pointless until one evening at a mundane office party he announces to his stunned co-workers that he is the Second Coming of Christ. Oddly enough, people start to believe him.
Blake Waterson, Harold's closest friend and narrator of the novel, is as skeptical as anyone of this disheveled and disconcertingly bawdy Savior and yet this would-be Judas is compelled to follow Harold on his two-hundred mile walking journey to Austin with a mismatched group of equally puzzled disciples. On the road, this motley crew of witnesses to the holy get to experience misguided converts, violent possums, and the ungrateful recipients of off-kilter healings. They also discover the inherent paradoxes, absurdities, and dangers of spirituality, as they learn that saviors may not have all the answers, and humanity is just as bizarre and beautiful as the beliefs we hold.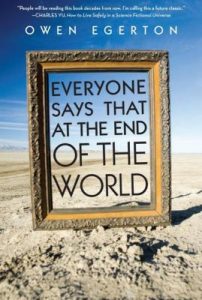 In this "often riotous, ultimately moving
Cat's Cradle
for our time," a Texas couple prepares for the apocalypse (
Kirkus Reviews
).
In Austin, Milton and Rica are expecting their first child. It's four days and counting. Not for the baby. But for the end of the world. Evidence: Haydon Brock, a godless television star has suddenly traded his Hollywood fame for salvation. A prophetic hermit crab is embarking on an unfathomable cross-country quest. Planes are dropping from the sky. And the president and first lady disappear. No omen is too inexplicable to Milton. He's learned for a fact that our planet is one vast asylum for the incurably insane. And its cosmic guardians are about to close down the whole damn thing.
Then Milton receives one more premonition: to seek out Haydon now holed up somewhere in Marfa. To what end Milton hasn't a clue. To find out, Milton, Rica, and their best friend head west across an increasingly cataclysmic landscape of inter-dimensional time travelers, Jesus clones, sleep-deprived monks, ghosts, and angels in an epic and manic quest to outrun the last days on Earth.
Combining humor, philosophical inquiry and an unforgettable cast of characters, "this sharp-witted satire" (
Booklist
) "is a future classic, and people will be reading [it] decades from now. I know I will" (Charles Yu,
How to Live Safely in a Science Fictional Universe
).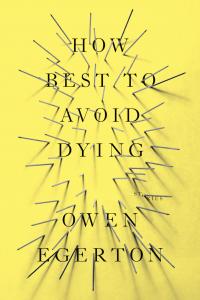 Stories
In this devilishly clever collection of short fiction, renowned humorist Owen Egerton leads us on a wildly surprising, darkly comic, and often heart-wrenching ride into the terrible beauty of life's end. With razor wit and compassionate insight, Egerton has a crafted a work that brilliantly explores the pain and wonder of life, knowing that with the turn of any corner death could be panhandling for your soul.