Books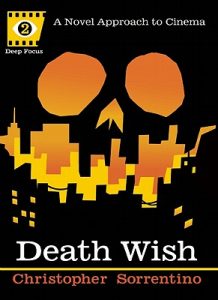 A Novel Approach to Cinema
Deep Focus
is a series of film books with a fresh approach. Take the smartest, liveliest writers in contemporary letters and let them loose on the most vital and popular corners of cinema history: midnight movies, the New Hollywood of the sixties and seventies, film noir, screwball comedies, international cult classics, and more. Passionate and idiosyncratic, each volume of
Deep Focus
is long-form criticism that's relentlessly provocative and entertaining.
Christopher Sorrentino's examination of
Death Wish
is the second entry in the series. The fourth collaboration between director Michael Winner and actor Charles Bronson,
Death Wish
was the apotheosis of a succession of films hitting screens during the seventies—including
Bullitt
,
Dirty Harry
, and
Walking Tall
—that tacked against a prevailing liberal wind in Hollywood cinema. Exploiting audience fears of a bestial "other" infesting American cities, and explicitly linking law and order with a pastoral ideal of the Old West (and exurban subdivisions), its glib endorsement of vigilantism infuriated liberal critics even as it filled theaters with cheering audiences. Sorrentino examines
Death Wish
in its various contexts—as movie, as provocation, as social commentary, as political tautology, and as depiction of urban life—and considers its lasting influence on cinema.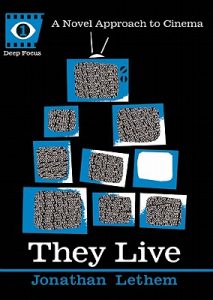 A Novel Approach to Cinema
"One of the cleverest, most accessibly in-depth film books released this year . . . a smart-ass novelist exploring a cheesy-cheeky '80s sci-fi flick."—Hartford Advocate
Deep Focus
is a series of film books with a fresh approach. Take the smartest, liveliest writers in contemporary letters and let them loose on the most vital and popular corners of cinema history: midnight movies, the New Hollywood of the sixties and seventies, film noir, screwball comedies, international cult classics, and more . . . Kicking off the series is Jonathan Lethem's take on
They Live
, John Carpenter's 1988 classic amalgam of deliberate B-movie, sci-fi, horror, anti-Yuppie agitprop.
Lethem exfoliates Carpenter's paranoid satire in a series of penetrating, free-associational forays into the context of a story that peels the human masks off the ghoulish overlords of capitalism. Taking into consideration classic Hollywood cinema and science fiction—as well as popular music and contemporary art and theory—
They Live
provides a wholly original perspective on Carpenter's subversive classic.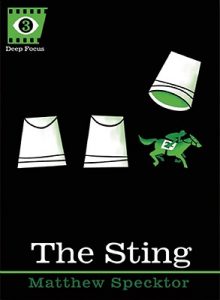 A Novel Approach to Cinema
From Melville to Madoff, the Confidence Man is an essential American archetype. George Roy Hill's 1973 film
The Sting
treats this theme with a characteristic dexterity. The movie was warmly received in its time, winning seven Academy Awards, but there were some who thought the movie was nothing more than a slight throwback. Pauline Kael, among others, felt Hill's film was mechanical and contrived: a callow and manipulative attempt to recapture the box-office success of Robert Redford and Paul Newman's prior pairing,
Butch Cassidy & The Sundance Kid
.
Matthew Specktor's passionate, lyric meditation turns
The Sting
on its head, on its side, and right-side-up in an effort to unpack the film's giddy complexity and secret, melancholic heart. Working off interviews with screenwriter David S. Ward and producer Tony Bill, and tacking from nuanced interpretation of its arching moods and themes to gimlet-eyed observation of its dizzying sleights-of-hand, Specktor opens
The Sting
up to disclose the subtle and stunning dimensions—sexual, political, and aesthetic—of Hill's best film. Through Specktor's lens,
The Sting
reveals itself as both an enduring human drama and a meditation on art-making itself, an ode to the necessary pleasure of being fooled at the movies.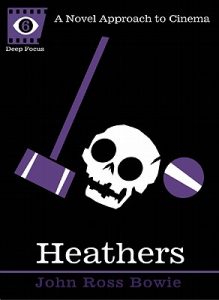 A Novel Approach to Cinema
What's your damage?
In 1989, Michael Lehmann's black comedy
Heathers
drew a line in the sand, rebuffing the sweetness and optimism of John Hughes' more popular fare with darkness and death. Launching the careers of Winona Ryder and Christian Slater,
Heathers
became a cult classic, ranking #5 on
Entertainment Weekly
's list of the 50 Best High School Movies and inspiring hoards of teen films that vastly overshadow its fame but lack its acid wit, moral complexity, and undeniable emotional punch.
For the latest installment of Deep Focus, John Ross Bowie blends captivating memoir with astute analysis, tracing the rebel-teen mythology that links Columbine, heavy metal, and
The Catcher in the Rye
. With help from Lehmann, screenwriter Daniel Waters, and members of the cast, Bowie thoroughly unpacks the film's peculiar resonance. Brilliant riffs on the etymology of its teen slang, the implications of its title, and its visual debt to Stanley Kubrick show how
Heathers
—for all its audacious absurdity—speaks volumes about the realities of high school and of life itself.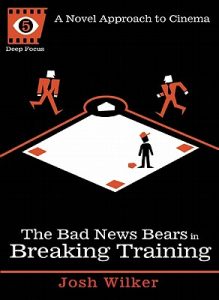 A Novel Approach to Cinema
In 1977,
The Bad News Bears in Breaking Training
had a moment in the sun. A glowing junk sculpture of American genres—sports flick, coming-of-age story, family melodrama, after-school special, road narrative—the film cashed in on the previous year's success of its predecessor,
The Bad News Bears
. Arguing against the sequel's dismissal as a cultural afterthought, Josh Wilker lovingly rescues from the oblivion of cinema history a quintessential expression of American resilience and joy.
Rushed into theaters by Paramount when the beleaguered film industry was suffering from "acute sequelitis," the (undeniably flawed) movie miraculously transcended its limitations to become a gathering point for heroic imagery drawn from American mythology. Considered in context, the film's unreasonable optimism, rooted in its characters' sincere desire to keep playing, is a powerful response to the political, economic, and social stresses of the late 1970s.
To Wilker's surprise, despite repeated viewings,
The Bad News Bears in Breaking Training
continues to move him. Its huge heart makes it not only the ultimate fantasy of the baseball-obsessed American boy, but a memorable iteration of that barbed vision of pure sunshine itself, the American dream.