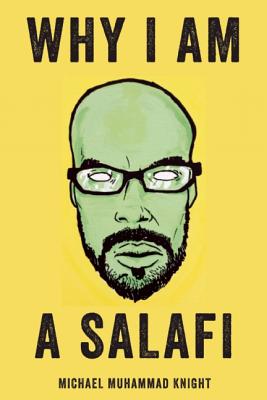 Why I Am a Salafi
The Salafi movement invests supreme Islamic authority in the precedents of the Salaf, the first three generations of Muslims, who represent a "Golden Age" from which all subsequent eras can only decline. In Why I Am a Salafi, Michael Muhammad Knight confronts the problem of origins, questioning the possibility of accessing pure Islam through its canonical texts.
Why I Am a Salafi is also a confrontation of Knight's own origins as a Muslim. Reconsidering Salafism, Knight explores the historical processes that informed Islam as he once knew it, having converted to a Salafi vision of Islam in 1994. In the decades since, he has drifted away from Salafism in favor of an alternative Islam that celebrates the freaks, misfits, and heretical innovators. What happens to Islam when everything's up for grabs, and can an anything-goes Islam allow space for reputedly intolerant Salafism?
In Why I Am a Salafi, Knight explores not only Salafism's valorization of the origins, but takes the Salafi project further than its advocates are willing to go, and reflects upon the consequences of surrendering the origins forever.
Praise for: WHY I AM A SALAFI "Knight (The Taqwacores) invites readers into "the desert of the real Islam," offering a deconstructionist take on Islamic texts, tradition, transmission, and theology....Knight's ambitious scope and captivating voice make Why I Am a Salafi a must-read for those interested in an alternative side of Islam."--Publisher's Weekly Starred Review "Knight traverses the scenic highways of Islamic history...Erudite, introspective, and relentlessly provocative, the author interrogates the traditions of Islamic historiography, Quranic exegesis, and hadith verification, elucidating how participating in the life of the Muslim community inevitably shapes, alters, and re-creates that community....The author's humor and generosity of spirit shine through... A vigorous treatment of how the sacred, in all its multifarious forms, continues to exercise power."--Kirkus TRIPPING WITH ALLAH Framed as a kind of memoir-as-road-novel, Knight's account is ostensibly about his journey to drinking ayahuasca, a psychedelic tea popular in South America. Yet, as with any good journey, the path includes numerous detours, and Knight's side trips add depth and complexity far beyond what one might expect from the story of some guy looking to trip out. . . . Knight . . . never loses his authenticity, whether he is discussing religion, sex, or drug use. -Booklist JOURNEY TO THE END OF ISLAM "...Knight's storytelling allows for a memorable arrival at the destination." --Publishers Weekly "Does Knight succeed in melding ayahuasca and Islam? It's most certainly worth reading this intelligent book to find out, for it has, beg pardon, a higher purpose than its surface gonzoism might suggest at first, with its smart meditations on consciousness and the passage of time. William James, suffice it to say, would probably be appalled at first, and then fascinated." --Kirkus "What's best about the Knight oeuvre is not just that he gets progressively more sophisticated in his readings of religion and the inherent tension between tradition and innovation, institutionalization and anarchy, but that his rage against hypocrisy is aimed at himself as well; he is critically wary of his own privilege, his own flaws--including, notably, that sin of thinking that one's thinking makes one superior or that self-reflection insulates oneself from the flaws of others." --Rain Taxi THE TAQWACORES "...compels the reader instantly... This is [...] a true brother to Howl and On the Road with Jehangir Tabari as Dean Moriarty and Yusef Ali as Sal Paradise... Knight has given us something wonderful: Introductory Islam, (a dictionary and Islam reference are essential companions for readers unfamiliar with Islamic terminology) a head-on clash of punk and the Quran..." --Bookslut "Knight's talent lies in his ability to create this incredibly diverse group of characters who not only spring off the page because they are so vividly described, but also represent a variety of viewpoints when it comes to what constitutes being Muslim. What's even more realistic is how he shows that doubts can cut both ways; for while the liberal punks might doubt themselves on occasion, the hardline character has cracks through which his doubts about strict adherence to the scripture comes through." --Seattle Post Intelligencer "Not many people can say they created a music movement out of thin air, but one of the few who can is Michael Muhammad Knight, a writer whose 2004 novel, The Taqwacores, introduced the world to Muslim punk before Muslim punk was a thing that actually existed." --The Austin Chronicle BLUE-EYE DEVIL "In the end you realize Knight has grown dramatically during his odyssey, and this is what makes this tale so fascinating. Rarely does a reader get to share an author's actual personal transformation page by page - it is an intimate experience." --Lonely Planet OSAMA VAN HALEN "He's a writer only America could have produced, one whom contemporary American readers should be primed to appreciate - and maybe even learn from." --SF Gate WHY I AM A FIVE PERCENTER "An insider's view of a largely unknown belief system woven tightly with the author's own journey of spiritual discovery." --Kirkus