Books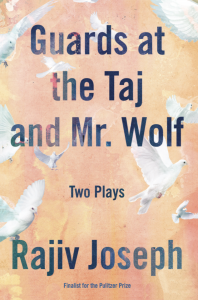 Two Plays
Set in India in 1648,
Guards at the Taj
introduces two young Imperial Guards, Humayun and Babur, as they stand watch in front of the city walls. New to their roles and just recently out of training, they have been assigned the less-than-exciting "dawn watch" leaving them plenty of time for discussion about the great Tajmahal—which they have heard much about, but have never seen until now. According to rumor, Shah Jahan has issued a royal decree that anyone who took part in the building of this majestic "city within a city" must have their hands chopped off, so as to ensure that "nothing so beautiful as the Tajmahal shall ever be built again." Humayun and Babur's repartee takes a somber turn as they realize that they will be the guards tasked with carrying out this violent judgment.
Mr. Wolf
is a powerful play about child abduction told from the point of view of various characters: Michael and Hana's daughter was kidnapped fourteen years ago. Julie also had a child kidnapped around a similar time. Theresa was kidnapped when she was three and knows nothing of the world except that which her captor selectively revealed to her over the years. These four lives, once altered by tragedy, now must face that nightmare once again.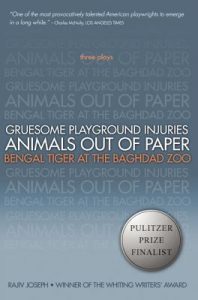 Three Plays
Rajiv Joseph is one of today's most acclaimed young playwrights. The winner of numerous awards, including an NEA Award for Best Play and a Whiting Writers Award, he is an artist to watch. This volume gathers together for the first time his three major works to date.
Included herein are his latest play,
Gruesome Playground Injuries
, which charts the intersection of two lives using scars, wounds, and calamity as the mile markers to explore why people hurt themselves to gain another's love and the cumulative effect of such damage;
Animals Out of Paper
, a subtle, elegant, yet bracing examination of the artistic impulse and those in its thrall, which follows a world-famous origamist as she becomes the unwitting mentor to a troubled young prodigy, even as she must deal with her own loss of inspiration; and
Bengal Tiger at the Baghdad Zoo
, a darkly comedic drama that looks on as the lives of two American soldiers, an Iraqi translator, and a tiger intersect on the streets of Baghdad.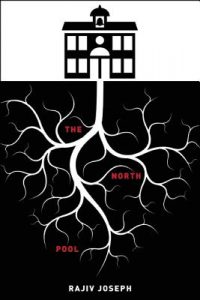 Khadim has no idea why he's been called into the office of Dr. Danielson, the Vice Principal at Sheffield High. At first, Danielson is cagey, using a minor violation to keep the boy at school for detention. But as tension mounts, Danielson alternately plays good cop and bad, and winds up catching Khadim in a series of lies about crimes he may (or may not) have committed.
The truth shifts constantly in this riveting cat-and-mouse thriller from Pulitzer Prize finalist Rajiv Joseph. What's bothering Dr. Danielson? What are the secrets that trouble Khadim? As the semester reaches its final hour, the time for revelation begins.
The North Pool
is a psychological drama that weaves a timely character study about racial and cultural profiling in America, skillfully using an interrogation to peel away ever more unexpected layers of the characters' lives as they navigate our increasingly complex society.