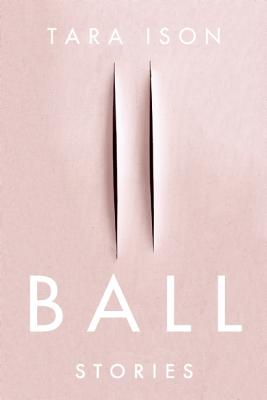 Ball
Stories
Ball is the thrilling and emotionally provocative debut collection of short fiction by the acclaimed author of the novels Rockaway and A Child Out of Alcatraz and the essay collection Reeling through Life.
Ball explores the darker edges of love and sex and death, how they are intimately and often violently connected, with bright, vivid stories set mostly in contemporary Los Angeles. In "Cactus," a young girl comes to fear the outside world following the freakish, accidental death of her adventure-seeking, naturalist boyfriend in the California desert; in "Wig," a woman must help her best friend face life-threatening cancer while covering up an unseemly affair with her friend's husband; in "Fish," the narrator sits watch over a dying uncle, trying to pay for past sins while administering to his final needs, but distracted by the ravenous fish in the Koi pond near the hospital; and in the collection's stunning title story, the bonds of friendship and pet ownership collide in the most startling and unexpected ways.
With a keen insight into the edges of human behavior and an assured literary hand, Ball is the new book by one of the West's most provocative stylists.
Praise for Ball "The women of these short stories sleep with a dying friend's husband, dump a boyfriend for a dog, and feed a sinful uncle to koi in a collection that explores the underbelly of sex, American-style."--O Magazine "Ison's stories blur the boundaries between the imagistic, the realistic, the symbolic, and the psychological."--Slant "Twisted, dark, and wild ... [Ison] is a talented writer who may have slipped under your radar. Be prepared to become obsessed."--Hello Giggles "Each tale in Ison's story collection, seemingly innocuous, delves into a dark examination of inappropriate behavior: affairs, self-mutilation, shocking deaths; no faux pas stone is left unturned. But with her expert writing and willingness to push boundaries the grotesqueness and horrors are bearable, even beautiful."--Marie Claire "[a] captivating and disturbing collection of stories: think Mary Gaitskill or Miranda July, but more demented....Ison's (Rockaway) straightforward style belies a deeper, parallel truth hidden in each story. These stories find a strange sweet spot between the mundane and the horrific. They may shock but they also provoke, with many leading to an unexpected, and not always happy, ending."--Publisher's Weekly Starred Review "Elegant, creepy short stories with a horror-film sensibility....That classic horror-movie elision, from friendly normalcy to nauseating terror, is made by most of these beautifully written, often first-person narratives....Freaky, nasty, highly original, and unforgettable, whether you like it or not."--Kirkus "Each tale in Ison's story collection, seemingly innocuous, delves into a dark examination of inappropriate behavior: affairs, self-mutilation, shocking deaths; no faux pas stone is left unturned. But with her expert writing and willingness to push boundaries the grotesqueness and horrors are bearable, even beautiful."--Marie Claire "Tara Ison's stories locate the pleasure in pain, the victory in betrayal, the beauty in depravity--they walk the line between love and debasement. In the end, Ison's characters are knots of selfish interest and desire, clinging to any warm body as death grows near, achingly human in her portrayal." --Sarah Gerard, author of Binary Star "The stories in Ball take place at the far limits of obsession and desire and lust, exploring the dangers of turning toward the kinds of love we have tried always to refuse. Tara Ison is a fearless writer, and her bravery before the dark urges of the heart thrills on every page."--Matt Bell, author of In the House upon the Dirt between the Lake and the Woods "Tara Ison is the mistress of bad behavior. She divines the beauty in darkness. She twists the familiar--a friendship, an apology--till something fantastic cracks. And she will have you in thrall to her gorgeous language. The stories in Ball are exquisite and harrowing. Must read straight through. Must remember to breathe." --Dylan Landis, author of Rainey Royal Praise for Reeling Through Life "[B]reathless and impassioned, Ison shows how and when her favorite on-screen characters and stories synchronized with her own life, or, more often than not, failed to do so. It's possible that film buffs may not appreciate her breezy approach to cinematic history, but I found it delightful. Rather than a seminar, Ison's book has the feel of a dinner party, where the hostess tries out voices, does impressions, acts out whole scenes and plots." LA Review of Books "Is that a soundtrack I hear? My reading life this winter has somehow become a ticket to a film-ish book festival. I'm not talking book-to-film adaptations, but works in which movies and Hollywood play a prominent role.
The realization hit me while reading Patton Oswalt's wonderful Silver Screen Fiend: Learning About Life from an Addiction to Film, and was confirmed by Tara Ison's Reeling Through Life: How I Learned to Live, Love and Die at the Movies. "Movies have gotten under my skin, formed my perceptions, influenced the choices I've made," Ison writes. "I've learned how to live at the movies, from the movies; I am who I am because of movies, and, to some degree, all the other movie freaks out there are, too." As am I." --Shelf Awareness "From the co-writer of Don't Tell Mom the Babysitter's Dead comes the blend of memoir and cultural observations about big life moments and the film that guide us through them." Oprah Magazine "Ison is keenly aware of how cinema's massive power molds us, teaches how to love, to drink, and to die....Confessional, honest, and humorous, Reeling through Life is an engrossing memoir and a guide to essential film..." --Booklist "Novelist and screenwriter Ison (A Child out of Alcatraz, Don't Tell Mom the Babysitter's Dead) delivers an innovative blend of film criticism and literary memoir in this absorbing collection of 10 essays....The result is powerfully universal, and the author's writing is at once intellectually razor-sharp and poetic as she delves into the most complex of emotions....These essays, combining cultural criticism with deeply personal reflections on love, religion, family, and the nature of art, offer brilliant analysis and food for thought for film aficionados and casual fans alike." --Publishers Weekly "Like a great film retrospective, Ison's gorgeous essays flicker and dazzle with nostalgia; her shimmering prose and astute, provocative insights surprise and delight. But it's in her courage to rack focus, turning her personal life inside-out, that elevates this book into a profoundly moving, revelatory whole." -- Neil Landau, author of 101 Things I Learned in Film School "Essential and completely identifiable reading for any film lover. Tara Ison writes about movies and life the way Stephen King can write about horror --with an encyclopedic knowledge of both." --David Koepp, screenwriter, Jurassic Park, Spider-Man "Tara Ison's Reeling Through Life: How I Learned to Live, Love, and Die at the Movies is unforgettable - a must read for anyone who loves movies. In an exquisite blend of memoir, criticism, and cultural observation, this luminous collection engages readers' hearts, minds, and intellect the way that only the best movies - and the best storytellers - can. Ison masterfully showcases how movies shape and guide us; how they move and empower and embolden us; how they help us learn how to be, above all, human." --Emily Rapp, author of The Still Point of the Turning World "In Reeling Through Life, Tara Ison fashions a marvelous alchemy, giving cinematic sweep to the challenges in her life --some of them recognizable and very funny, some of them not and damned hard --while finding instructive nuggets in an array of iconic films to help make sense of the daily stuff we'd like to leave, if only we could, on the cutting room floor. The result is a brave yet buoyant personal story, told with grace and wit and not a hint of self-pity. - Douglas Bauer, author of What Happens Next?: Matters of Life and Death, Winner of the 2014 PEN/New England Book Award for Non-Fiction. "Tara Ison's Reeling Through Life is the most enjoyable, intelligent, sharp-eyed, and intensely personal account I've ever read of how movies help to make us who we are. It's as stirring as Norma Rae's union sign, as seductive as Mrs. Robinson's leopard-skin coat." -- Matthew Goodman, bestselling author of Eighty Days: Nellie Bly and Elizabeth Bisland's History-Making Race Around the World "Tara Ison's passion for the movies shines in every essay in Reeling Through Life, as she gleans life lessons from the movies she's fallen in love with. By turns hilarious, poignant, and outrageous; always profound and beautifully written." --Hallie Ephron, author of Night Night, Sleep Tight Praise for Rockaway "How tragic that this book --set in a Queens, New York, beach town that in real life was devastated by Sandy --has a new relevance. Sarah is a California painter who's come east for a retreat she hopes will revive her artistic passion. It's a sheer joy to stay in the company of Ison's voice. There's an unlikely relationship at the center, the kind of encounter that could happen only in the summertime suspension of 'ordinary' life." --Karen Russell, O Magazine "In Ison's poetic depiction, Rockaway is equal parts tourist trap and salt-sprayed idyll, where beachgoers frolic in the shadow of some potent dramatic irony: the reader's awareness of the devastation soon to arrive across the river makes for an unsettling countdown...Ison possesses a surfeit of wit and an especial knack for upending love story conventions...as the narrative swirls to a stylish and startling end." --The New York Times Book Review "Here is a young woman at the end of her leash, the end of her youth, the edge of her art, not doing a melancholy artist-on-the-beach thing, but confronting the many true colors of her life in this beautiful and dangerous season. Tara Ison's Rockaway is a stirring, fresh look at a tough passage." --Ron Carlson, Return to Oak Pines "Rockaway is an illuminating inquiry into the nature of love, the meaning of art, the power of faith and family, and how grace is discovered in the most unexpected places --a stunning, modern echo of Virginia Woolf's To The Lighthouse with a uniquely brilliant voice." --Emily Rapp, The Still Point of the Turning World "Rockaway is a novel that embraces everything: love, art, friendship, faith, and the mystery of why we create the lives we do, with prose that is breathtaking, clear, and elegant. Sarah and Marty and Emily are depicted with honesty that is utterly riveting. This is a beautiful gem of a book." --Karen E. Bender, Refund "Written in language that is utterly liquid, Rockaway inhabits the poetry of a woman fiercely searching for identity. Here, we find an illuminating meditation on the art of being, with the true revelation suggesting that perhaps we were never lost at all. A triumphant reclamation of the soul." --Ilie Ruby, The Salt God's Daughter "Tara Ison is one of the premiere stylists of her generation, and on every page of Rockaway she writes sentences that are elegant and rich. Casually sensual in ways that will curl your toes, Ison refuses to look away from the ramifications of that same dark eroticism unleashed. It's no exaggeration to say Rockaway is pretty much perfect -- a meditation on art, aloneness, ambition, love, religion, and the unknowable and unquenchable thirst that is human desire. Just start reading. You won't stop." --Charles Bock, Beautiful Children "In Rockaway's narrative passages Ms. Ison's prose style is lovely and in places lyrical...[Sarah] is an engagingly complex character readers will hope to see more of.." --New York Journal of Books