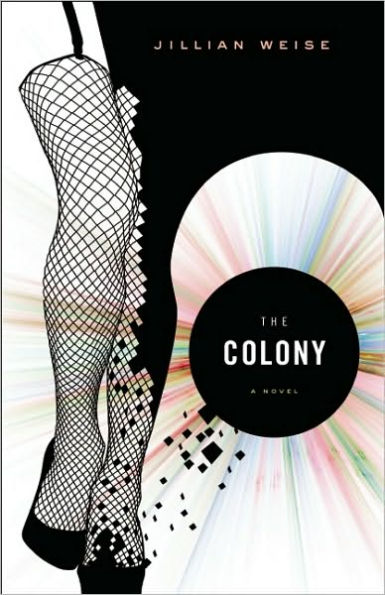 The Colony
Eugenics, body horror, eros, and medical ethics collide is this "ambitious, provocative, and wildly inventive" dystopian satire (Publishers Weekly).
Anne Hatley is a sharp-witted and acerbic young teacher in need of a reprieve from the drudgery of work and a tedious relationship. She accepts an invitation to the nation's largest research colony, where DNA pioneer James D. Watson hopes to "cure" Anne of a rare gene that affects her bone growth: She is missing a leg, and walks with a prosthesis. Though getting along fine, she's being pressured to pioneer an experimental procedure, and be the first patient to generate a new limb. As Anne falls into a reluctant romance with a fellow colonist—the rakish possessor of the "suicide gene"—and consults a resurrected Charles Darwin and a dugong-bred mermaid, Anne must first come to terms with who she is, before she ever dares to decide who she can become.
"Part Wellsian dystopia, part medical mystery, part Hawthornian allegory, and part reality show, The Colony is a potent exploration of ethics in the Age of the Genome (Chris Bachelder, author of The Throwback Special). It's also a "hilarious, deeply moving, sexy, scary novel . . . about finding love, finding a home, finding family, and all the other doomed experiments we conduct in the hope in making a better human" (Brock Clarke, author of The Price of the Haircut).
Praise for The Colony "Jillian Weise is a troublemaker. We need more writers like her, more novels like her hilarious, deeply moving, sexy, scary novel The Colony, which is about gene therapy, Watson and Crick, excessive alcohol consumption and cigarette smoking, mortality, finding love, finding a home, finding family, and all the other doomed experiments we conduct in the hope in making a better human." --Brock Clarke, author of An Arsonist's Guide to Writers' Homes in New England "The Colony is howlingly funny and deeply sad. It is touching and toweringly angry. It is melancholy and lavishly sexual. It is unique--but it speaks with graceful force to everyone. I read many novels and forget many, but I will never forget what Jillian Weise has so brilliantly set down. Neither will you. Please try it. You will thank me." --Fred Chappell, author of Shadow Box and former poet laureate of North Carolina "Part Wellsian dystopia, part medical mystery, part Hawthornian allegory, and part reality show, The Colony is a potent exploration of ethics in the Age of the Genome. But Weise's novel is not merely an exceedingly smart and formally elegant novel of ideas--it is also a deeply compelling character-driven drama. Anne Hatley's voice is irresistible--witty, assured, sexy, righteous, wounded. The Colony is a tremendous success, one of the most exciting first novels in recent memory." --Chris Bachelder, author of Bear v. Shark and U.S.! "A debut that should be cause for much rejoicing. Jillian Weise's The Colony does everything that fans of the traditional novel look for: it's a coming-of-age tale, a razor-sharp comedy of eros, a meditation on 'disability' and the misguided ways in which we purport to 'fix' it, a scorched-earth denunciation of eugenics. And Anne Hatley--vulnerable and strong in equal measure, delightfully cranky, conflicted--is one of the most memorable protagonists in recent American fiction. But the novel's triumph is that it accomplishes all these things without ever stooping to conventionality. Endlessly inventive, The Colony features tête-à-têtes with Charles Darwin in Applebee's, mermaids bred from dugongs and kept in a water tower by one of the co-discoverers of DNA, a woman whose 'fat gene' is being treated in a way that eventually requires her to be tethered to earth. Weise's grace, wit, and imaginative fearlessness mark her as a writer to be reckoned with for the long haul. The Colony is clever and playful, yes, but there's no mistaking this for whimsy--Weise's is a playfulness backed by steel." --Michael Griffith, author of Spikes Praise for The Amputee's Guide to Sex "Readers who can handle the hair-raising experience of Jillian Weise's gutsy poetry debut . . . will be rewarded with an elegant examination of intimacy and disability and a fearless dissection of the taboo and the hidden." --Los Angeles Times "The poems . . . perform an earthy, flamenco-like stomp and full-throated Whitmanesque song (the extended remix), reaching notes as daring and feeling as crushingly good-looking." --Major Jackson, author of Hoops and Leaving Saturn "I'm convinced these are the kind of poems that change a reader's life." --A. Van Jordan, author of M-A-C-N-O-L-I-A "With deadpan heartbreak and powerful invention, Jillian Weise raids the border-territories between the human body and the arts, creating in her poetry a devastating imaginary space . . . This is a lovely and unsettling debut." --Josh Bell, author of No Planets Strike "In her charged and daring verse debut, Weise artfully interweaves biographical details with meditations on the history of disability and sex . . . An agile and powerful poet, Weise references medical literature, history and poetry, speaking boldly and compassionately about a little-discussed subject that becomes universal in her careful hands." --Publishers Weekly (starred review)