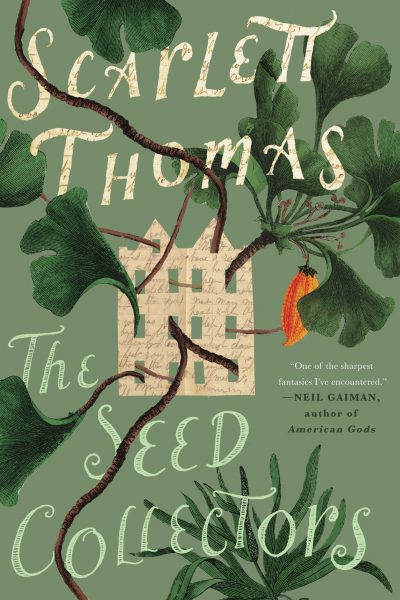 The Seed Collectors
A Novel
A complex and fiercely contemporary tale of inheritance, enlightenment, life, death, desire and family trees, The Seed Collectors is the most important novel yet from one of the world's most daring and brilliant writers.
Great Aunt Oleander is dead. To each of her nearest and dearest she has left a seed pod. The seed pods might be deadly, but then again they might also contain the secret of enlightenment. Not that anyone has much time for enlightenment. Fleur, left behind at the crumbling Namaste House, must step into Oleander's role as guru to lost and lonely celebrities. Bryony wants to lose the weight she put on after her botanist parents disappeared, but can't stop drinking. And Charlie struggles to make sense of his life after losing the one woman he could truly love.
As Henry James said of George Eliot's Middlemarch, The Seed Collectors is a "treasurehouse of detail" revealing all that it means to be connected, to be part of a society, to be part of the universe and to be human.
"Thomas has a gift for interior monologues that flow steadily and easily, carrying you through a character's mental landscape, full of vivid imagery and digressions that flirt with spinning out of control but never quite go too far." —The New York Times Book Review

"A weird, wonderful, and often wickedly funny family mini-saga… Bold, charming and inventive, The Seed Collectors will not only please Thomas's American fans, it may win her new ones as well." —The Boston Globe

"A searing family saga with dollops of magical realism, The Seed Collectors is an exquisitely nimble novel about self-knowledge, love and self-love, and the many ways we shape our lives." —Claire Fallon, Huffington Post

"[Thomas'] newest novel, The Seed Collectors, is laugh-out-loud funny for pages at a time. As British reviewers noted, it fits securely into the great tradition of the modern British comic novel... Thomas is more interested in rubbing words and ideas together and seeing what sparks they throw off than in telling stories that reinforce what we already think and end happily for likeable characters." —The Millions

"Thomas succeeds in creating a funny yet poignant tale that is as much about yearning for connection as it is about seeking enlightenment. Kudos to her for penning a splendid novel that blends botany, philosophy, and mystery." —Library Journal, starred review

"[A] hyperbolic, raunchy, hilarious immersion in the connected lives of some intensely imperfect people… Thomas is a literary star in the United Kingdom. She should be in the United States, too." —Kirkus, starred review

"Acclaimed British writer Thomas uses a large cast of dysfunctional characters to explore concepts of connectedness and responsibility. With equal parts family saga, intriguing mystery, and existential foray, this magical tale of love and illumination will keep readers on their toes." —Booklist

"Ebullient prose, engaging characters, lively imagination, illuminating details — Thomas is an original, and her novel is consistently entertaining." —Publishers Weekly

"The Seed Collectors is entrancing: it's a sharply observed contemporary novel of real people and real plants and real desire and real hurt, and it's somehow also one of the sharpest fantasies I've encountered. A sour-and-sweet delight." —Neil Gaiman, author of American Gods

"Simultaneously sharply-drawn and dreamlike, often hilarious, The Seed Collectors is a baroque family saga of human fallibility, love, eccentricity, sex, spirituality, and of a lost, legendary, coincidentally lethal route to absolute transcendence. Scarlett Thomas is a splendid novelist." —William Gibson, author of Neuromancer

"Her prose is splendidly alive, full of unexpected phrases and delicious cadences . . . like Pratchett, Thomas blends her flippancy and her philosophy perfectly. A fantastical family saga." —The Guardian

"Scarlett Thomas has a skillful way of blending fantasy and realism . . . The Seed Collectors is consistently enjoyable." —Financial Times

"She has woven her distinct brand of mystery and intrigue into a complex family saga." —The Observer