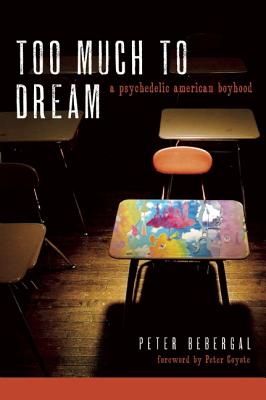 Too Much to Dream
A Psychedelic American Boyhood
Tom Tomorrow's This Modern World has been hailed as "one of the most clever and incisive political cartoons in the country" (Los Angeles Times). For twenty years, Tomorrow's sharply funny and fiercely intelligent commentary has been a beacon of much-needed satire in the often-bleak world of media news. Recently, as a regular feature in weekly papers nationwide as well as online, This Modern World has continued to lend the voices of its irreverent regulars—Sparky, Blinky, and Conservative Jones, among others—to the issues of what has been a remarkable, turbulent time in this nation's history.
This latest anthology collects Tomorrow's work from 2008 to the present along with never before seen pieces. It covers the drama and spectacle of the presidential campaign, the historic election and first year in office of Barack Obama, the financial meltdown and Great Recession, and the rise of the teabaggers and the battle over healthcare reform, among other madcap topics.
The result is more than simply the sum of its parts—at once a cultural artifact and an absolutely brilliant survey of political cartooning at its acme.

Praise for Too Much to Dream "Bebergal's beautifully nuanced prose and depths of psychological insight make this one of the best memoirs of the decade, one that also offers a uniquely valuable perspective on addiction." --Booklist "Bebergal embarks upon a whirlwind coming-of-age journey, consorting with homeless acid-heads, occult-obsessed mall security guards, desperate hardcore punkers and other fringe dwellers. He delves into underground comics, psychedelic rock, Western ceremonial magic and lots and lots of tripping. Along the way, Bebergal presents a primer on the psychedelic era, discussing in extended non-memoir passages the history of LSD, the I-Ching, the Silver Surfer, Pink Floyd and more." --Metro "Told with compassion and understanding . . . [Bebergal's] analysis of addictive behavior provides material for thought and discussion. In the end, Bebergal offers hope that his addictive behavior can rest, and that he's discovered the bliss of the everyday." --Publishers Weekly "Too Much to Dream makes Catcher in the Rye look like a Boy Scout manual. With honesty and insight, Peter Bebergal, ever hard-up for mystical experience, reveals the underbelly of the countercultural slogan Sex, drugs, and rock 'n' roll, where festered a deep spiritual quest. Lenny Bruce once said that people were leaving the church and looking for God; Bebergal's particular journey extends that concept by taking the universe personally but finally surrendering his demons of drug addiction to the ultimate, inconceivable Mystery, while managing to keep one foot in the fantasy world." --Paul Krassner, author of Who's to Say What's Obscene: Politics, Culture and Comedy in America Today "Too Much to Dream is at once an examination of American drug culture and a deeply personal journey of self-reflection and addiction. In Bebergal's search for spiritual enlightenment, he dispels the myths surrounding the use and abuse of psychedelics and other mind-altering substances. This is a wonderfully powerful story that teaches us that transcendence is best found with our feet firmly planted on the ground and our 'eyes toward heaven.'"
--James Brown, author of The Los Angeles Diaries and This River